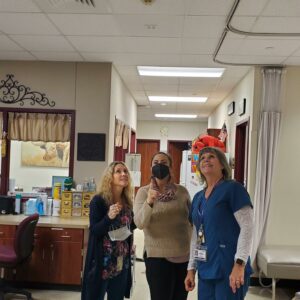 Last year, Humble ISD added illumiPure's Air Guardian to Summer Creek High School as a first step to protecting nurses from contracting airborne diseases while treating students.
Our business development director, Steve Hartstein, stopped by to speak with their head nurse, Tanya, a year later to talk about the changes of installing the Air Guardian.
Steve: Let's start with the obvious question. Overall, how would you rate your nursing station since installing the Air Guardian?
Tanya: I think it's improved our workspace. We love the device and couldn't be happier with it. It's improved our quality of life at work. 
Steve: As you can imagine, I'm happy to hear that. You mentioned the quality of life; what changes have you noticed?
Tanya: I think the most interesting change is that the air in the nursing station smells different than the rest of the school, in a good way. 
Steve: So, do you believe the Air Guardian has also improved the health of the nursing staff?
Tanya: I think it clearly has. Since we installed the Air Guardian, none of my staff has taken off in a year due to illness. That's pretty amazing, considering we're around sick children all day, and the first time in a long time that it's happened.
Steve: Just to be clear, you attribute that to the Air Guardian?
Tanya: Yes, outside of mandated protocols, we haven't made other significant changes other than the Air Guardian.
Steve: Outside of health concerns, how does it benefit the school and the staff when your nursing staff is not out from illness?
Tanya: Overall, I think the care students receive is higher when the same staff is consistently here. Like many places in education right now, replacements and substitutes can be hard to come by. On a more personal level, spending my vacation days how I want and not using them as sick days is always a plus.
Steve: Thank you very much for answering my questions. I'm happy to hear all the nurses are healthy.