The Portable

™


by Air Guardian
The Portable by Air Guardian is illumiPure's answer to meeting the needs of upper air disinfection and purification in an easily transportable mobile device.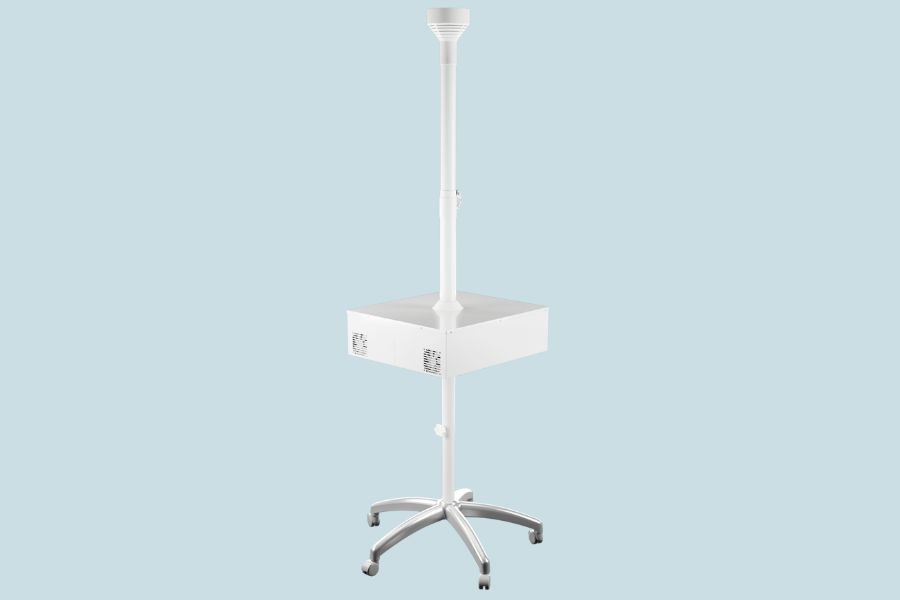 The Portable by Air Guardian brings CDC-recommended UVGI plus a patented guided airflow chamber making the most effective mobile air purification system in use today. An adjustable nozzle ensures The Portable provides transportable complete air purification and destruction of chemical contaminants. Anti-microbial surfaces and wheel casters make moving The Portable safe and easy.
The Portable works as part of your terminal cleaning program to provide purified air
Use mobile air purification to purify event space during high occupancy or as rental for additional revenue driver
The Portable eliminates any size of particulate or pathogen without a filter
Engineered with health and wellness in mind
The Portable by Air Guardian was designed to provide businesses with CDC-recommended UVGI and directional airflow. Unlike traditional portable air purification devices, The Portable's adjustable nozzle ensures that upper air, the air likely to contain the most pathogens and particulates, is being purified while simultaneously delivering clean air to the breathing zone.
The Portable uses the same technology as all other Air Guardian devices. (For more on the science behind how the Air Guardian works: click here).
Through UVGI, The Portable eliminates pathogens, including viruses (e.g., Sars-CoV-2), bacteria, molds, spores, VOCs, and other particulates without a filter, saving thousands of dollars a year over devices with frequent filter changes. There is no-to-low ongoing maintenance, with the parts replacement at 30,000 hours. That's over three years of non-stop usage.
The Portable is also the safest portable air purification system and emits no ozone. Like all illumiPure products, The Portable has been 3rd party tested for effectiveness, has been certified safe by ETL, CE, and RoHS, and is registered with the FDA and EPA. In addition, The Portable and all Air Guardian products have also been certified to emit no ozone by UL-2998 and the California Air Review Board.
The Portable includes a Vertices AQS sensor system, which is available with a Vertices gateway to monitor air quality in an indoor environment. A web and mobile dashboard provide easy and complete visualization of indoor air quality and act as a building control system for The Portable.
The Portable can be instantly moved from room to room as it plugs into any standard outlet. American and European plugs and drivers are available.
The start of your
healthcare systems infection control plan
The Portable for healthcare and hospitals
A good infection control program requires a multi-system approach to reducing infectious diseases. Procedures and devices that ensure clean air and monitor air quality are critical components of this process. It starts on the first day by ensuring that construction materials are not continuously off-gassing, and if they are, having a way to keep patients' rooms healthy. And it continues daily, with terminal cleaning, from patient to patient, to reduce disease spread.
The Portable is the perfect device to assist patients who have respiratory needs and terminal cleaning. Roll the device into the room, plug into any standard outlet, and you'll instantly be able to feel clean air from its four displacement ports. By combining The Portable with Vertices AQS, dashboard analytics will immediately inform staff when the room is ready for turnover. In the case of a vulnerable client, or a client with infectious diseases, leave The Portable in the room as part of your infection prevention strategy.
Make sure every employee is comfortable at and away from their desk
The Portable for the office and
commercial businesses
Providing a healthy office space isn't an exciting perk; it's a workplace requirement if you want the best employees. And, as it turns out, healthy buildings have higher rents and more productive employees.
In a corporate setting, The Portable assists in creating a healthy workspace by providing air cleaned through UVGI and oxidation into your employee's breathing zones in their gathering spaces. Whether having conferences in multiple rooms or having a morning meeting in your office, The Portable is a visible and effective signal that their employer cares about their workspace and wants them to be just as healthy at work as they are at home.
In other commercial settings, The Portable plays a critical role in providing a safe environment in businesses where the interior may change, such as a gym, event center, or restaurant. High-quality, easily mobile air purification allows for the change. 
Filterless dust and
mold destruction
The Portable for construction, remediation,
and abatement
The Portable is the perfect air-scrubbing solution for airborne dust and mold removal. Patented Air Guardian technology removes 99.9% of dust and molds without a filter, saving thousands of dollars a year in filter replacement costs. The Portable can be fitted with an attachment for ducting, creating the negative pressure requirements for ANSI/IICRC S520. The purification chambers are warrantied for over three years of non-stop usage (30,000 hours).
Combined with the Vertices AQS, any staff member can quickly identify when the indoor environment is ready for final air testing, ensuring the tests are not failed and adding costly additional testing is not added to the job.
Digital indoor air quality (IAQ) monitoring combined with filterless pressurization and scrubbing means less time visiting job sites and more time working on growing your business.
The following list demonstrates pathogens eliminated with the technology employed in the Air Guardian.
Vibrio spp.
Vibrio vulnificus
Streptococcus pneumoniae
Staphylococcus aureus
Gram Positive staphylococcus
Gram Negative staphylococcus
Clostridium difficile
Streptococcus viridans
Pseudomonas aeruginosa
Legionella
Measles
Acinetobacter baumannii
Bacillus anthracis – Anthrax
Bacillus magaterium sp. (spores)
Bacillus magaterium sp. (veg.)
Corynebacterium diphtheriae
Ebertelia typhosa
Leptospiracanicola – infectious Jaundice
Microccocus candidus
Microccocus sphaeroides
Mycobacterium tuberculosis
Neisseria catarrhalis
Phytomonas tumefaciens
Proteus vulgaris
Pseudomonas fluorescens
Salmonella enteritidis
Salmonella paratyphi
Salmonella typhosa
Bacillus paratyphusus
Bacillus subtilis spores
Bacillus subtilis
typhimurium
Sarcina lutea
Serratia marcescens
Shigella dyseteriae – Dysentery
Shigella flexneri – Dysentery
Shigella paradysenteriae
Spirillum rubrum
Staphylococcus albus
Staphylococcus hemolyticus
Staphylococcus lactis
Stenotrophomonas maltophilia
Vibrio comma – Cholera
SARS-CoV-2 and all variants
Severe acute respiratory syndrome (SARS)
Middle East Respiratory Syndrome (MERS)
Adenoviruses
Enteroviruses
Rotavirus
Influenza viruses
Rhinoviruses
Norovirus
Feline calicivirus (FCV)
Bacteriophage (MS2)
Infectious Hepatitis
Poliovirus – Poliomyelitis
Tobacco mosaic
Aspergillius
Candida albicans
Candida Auris
Coccidioides
Cryptococcus neoformans
Cryptococcus gattii
Blastomyces
Penicillium
Rhisopus
Aspergillius flavus
Aspergillius glaucus
Aspergillius niger
Mucor racemosus A
Mucor racemosus B
Oospora lactis
Penicillium expansum
Penicillium roqueforti
Penicillium digitatum
Rhisopus nigricans
Common yeast cake
Saccharomyces cerevisiae
Saccharomyces ellipsoideus
Saccharomyces spores