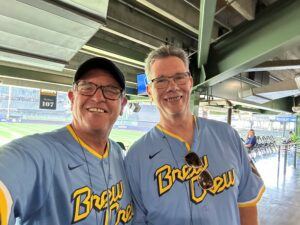 The crack of the bat, the roar of the crowd, and the scent of freshly cut grass are the quintessential elements that make attending a Milwaukee Brewers baseball game an unforgettable experience.
But this time, something extra in the air made the day even more special. As part of our ongoing commitment to promoting healthy indoor environments, illumiPure gave away 1500 Air Guardian Micro, illumiPure's personalized air purifier, during the August 23rd Milwaukee Brewers game versus the Minnesota Twins, taking our partnership with the Brewers to new heights.
At illumiPure, we understand that health and wellness extend beyond the confines of our homes. Our mission is to create healthier indoor environments wherever life takes us, and what better way to make an impact than by ensuring everyone has cleaner air on their ride home after a big win. As fans gathered to cheer for their beloved Brewers, they were met with a surprise – the gift of cleaner, fresher air.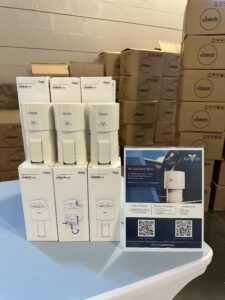 The Air Guardian Micro, a compact and powerful air purifier from illumiPure, found its way into the hands of 1500 lucky attendees. These sleek devices, known for their efficiency in capturing airborne particles and allergens, offered attendees a breath of fresh air. From families with young children to die-hard baseball enthusiasts, our aim was to assist in providing an elevated game-day experience that aligned with our dedication to health-conscious solutions.
"Our partnership with the Milwaukee Brewers goes beyond the confines of the ballpark. We believe that everyone deserves to breathe clean air, no matter where they are," said John Higgins, CEO at illumiPure. "By distributing these Air Guardian Micros, we hope to show that a commitment to well-being can seamlessly blend with the thrill of sports and entertainment."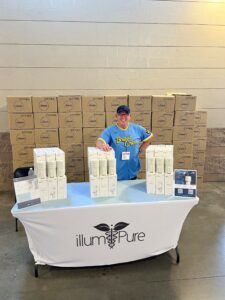 The illumiPure team was on-site to personally hand out the air purifiers, engaging with fans and sharing insights on how these devices contribute to improved indoor air quality. The positive response was overwhelming, reinforcing the idea that small changes can make a big difference in our daily lives. 
Beyond the excitement of the game, illumiPure's partnership with the Milwaukee Brewers continues to underscore our shared values of community, health, and innovation. As fans left the stadium that day, Air Guardian Micros in hand, they took home more than just a piece of memorabilia – they carried with them a reminder that companies like illumiPure are dedicated to enhancing our surroundings and safeguarding our well-being.
From the ballpark to your living room, illumiPure remains committed to pursuing healthier spaces and healthier lives. As the cheers echoed and the final innings played out, we celebrated not only a victory on the field but also a collective step towards cleaner, fresher air for all.